Partnerships
We are succeeding in developing new products with high added value through partnerships with great companies
Hamai has a stable base for its operations — the LP gas valve business, which holds the top share in Japan. Building on this, we are expanding into many cutting-edge fields. We were early in starting development of ball valves, used in various industrial applications, and high-pressure valves for semiconductor manufacturing: we have developed new products that spearheaded the times.
Currently, we are working on a cutting-edge project: the development of hydrogen valves, such as for hydrogen fuel cell vehicles (FCVs), which will play a role in the next generation of energy.
Jointly developed hydrogen valves with a major Japanese manufacturer. Succeeded in mass production of the world's first 35 MPa solenoid valve for FCVs. Developing and mass-producing products also for 70 MPa FCVs
At Hamai, we started joint development with a major Japanese automobile manufacturer for FCVs. In 2000, we became the first in the world to succeed in developing solenoid valves for 35 MPa hydrogen FCVs. To date, with the advancement in technology, we have developed hydrogen valves and the like, both solenoid valves and pressure relief devices, that are compatible with high pressures up to 87.5 MPa. Through the partnership, many functional products are being used in hydrogen FCVs.
Pursuing partnerships
We are actively pursuing company partnerships
We are actively pursuing company partnerships with manufacturers of a variety of industries. We, Hamai, will provide the different resources necessary for your development of hydrogen-related products. By complementing one another and generating synergy, we can together speed up development.
New product development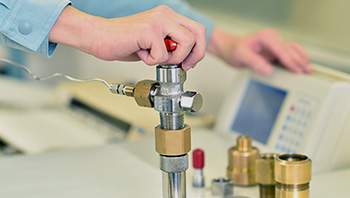 Join us in developing new products that will contribute to carbon neutrality
Use Hamai's original technologies and products in achieving a sustainable future society. We can make ideas a reality in partnership with customers and suppliers, and we will jointly pursue the development of new products.
Joint development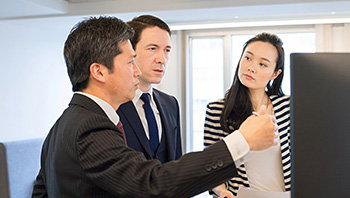 Make a success of joint development by combining different products and technologies
Develop new products and build new businesses by combining different products and technologies. Through a global partnership, we will be able to create new value.
Design changes and localization
We support your localization for Japan
Hamai supports certification to Japanese legal and industrial standards that are required to sell a global product on the Japanese market. We can provide pertinent advice for design changes and specifications for the Japanese market.
Commissioned work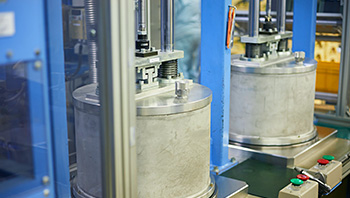 Commission us to develop components or to apply for certification in Japan, including evaluation tests
We can develop components for your products or take on commissioned work, such as performing evaluation tests. We will take on the work of supporting your certification and evaluation testing in Japan with our high-performance facilities, including our 150 MPa test instrument, which is among the largest in Japan.
Inquiries about partnership
Call us
At Hamai, we welcome your inquiries and offer consultations by phone.
International call

+81-3-3492-6655

From 9 a.m. to 6 p.m. JST (available in English)
Email us
Please enter your inquiry or what you would like to consult us about into the form below and press Submit.
We will look at your inquiry and respond as soon as we can.
(accepted 24 hours a day; English only).
Schedule an online business meeting (on Webex by Cisco, Zoom, or Microsoft Teams)
Enter the required information
Confirmation email from Hamai
Schedule adjustment
Meeting invitation email
Online meeting
At Hamai, we welcome potential customers to online business meetings to respond to specific inquiries, needs, and consultations from around the world.
Please enter the required information in the dedicated form and press Send.
When we receive the email, we will reply with confirmation of the details and the dates and times we propose for the meeting. After communicating and agreeing on a time, we will send an email invitation to the online business meeting (on Webex by Cisco, Zoom, or Microsoft Teams).
*1.

Please enter the meeting room at the agreed time. A person responsible for overseas accounts will meet with you.

*2.

There is no need to sign up for an account to join the online business meeting.

*3.

If we cannot meet at the time you desire, we will contact you again to reschedule.

*4.

If you have not heard from us to arrange an appointment for more than five days after your inquiry, there may have been a system issue or a mistake in the contact information. Please contact us directly from our email form.

*5.

Depending on your inquiry, engineers or other staff members may join the meeting.
Hours of availability
Online business meetings can be scheduled between 9 a.m. and 6 p.m. JST.
If you desire a time outside those hours, we will consider the case individually and arrange a time.
User environment
Data charges are paid by the user. Attending the meeting on a smartphone may result in higher data charges. Please check your contract for your data plan.
If the data connection during the meeting is poor, we may not be able to hold the online business meeting. We recommend a Wi-Fi environment.
Information management
Details we discuss during the online business meeting include personal information and confidential information. Do not tell others, post on social media, or otherwise make the information known to third parties.
Hours of availability for online business meetings (9 a.m. to 6 p.m. JST)

Best hours for both your company and ours
Core business hours for the region
Hours we can accommodate if necessary