Customization
Hamai can design and manufacture new made-to-order valves to match the needs of manufacturers. We also provide customized products by modifying the design of existing products
Valves for various high-pressure gas cylinders are used in a wide range of industries. Each one of these valves incorporates special technologies, so they are often custom developed and manufactured. It is not uncommon for Hamai to customize our standard products based on our customers' request.
Designing valves which possess the new performance and functionality required by users. Hamai can also change product specifications.
We assess the sophisticated and complex needs of our users. Our team of professional engineers will develop and supply valve products. It is no exaggeration to say that these products are one-of-a-kind throughout the world. Hamai provides consultation from the stage of product conceptualization, and support for product design, prototyping, and mass production.
Hamai will freely design made-to-order valves to meet our customers' needs. Through customization, we modify specifications of our existing products and add optional features to our products.
Made-to-order
Hydrogen valve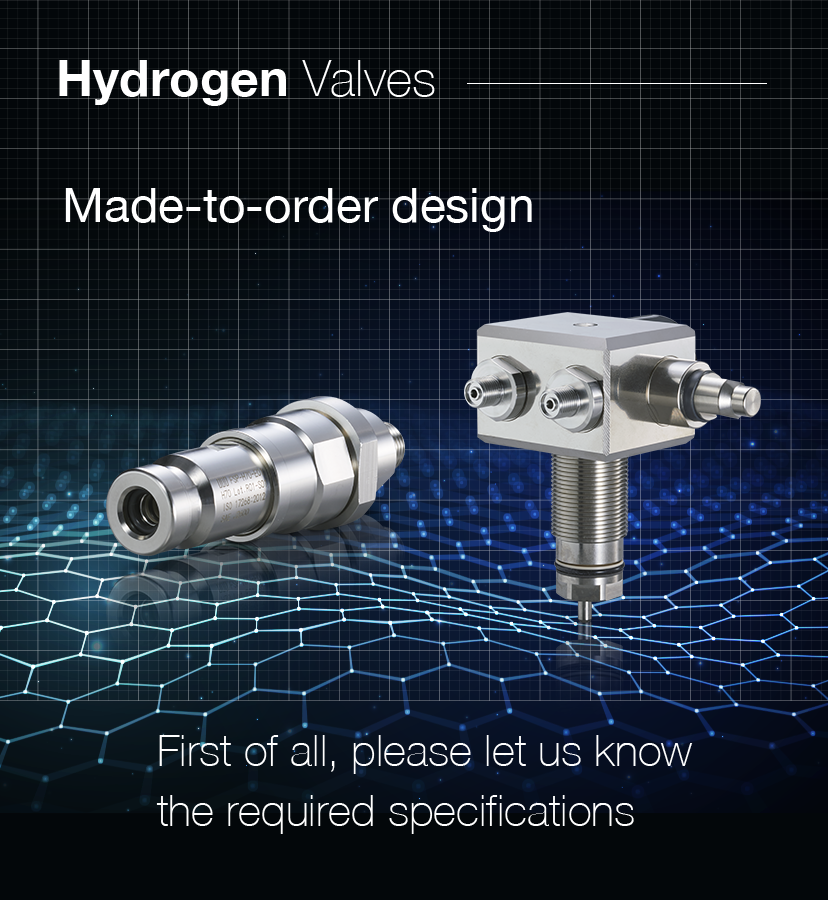 Made-to-order design according to required specifications and systems
Hamai meets our users' needs by providing made-to-order design of valves for hydrogen fuel cells and related units.
Hamai can also add new functions
We are able to add new functions to all kinds of valves with customized designs that fit the application and usage environment.
Achieving performance that matches the required specifications
Hamai achieves the performance required by users; for example, support for specific pressure and temperature zones, improved durability, and support for special environments.
We support acquisition of certification for various industrial standards
Compliance with laws and regulations in each country that are essential for product use. Hamai supports the acquisition of certification for industrial standards, etc.
*For hydrogen valves, we provide customization such as modification of screws and modification, addition, and deletion of functions.
High-pressure valve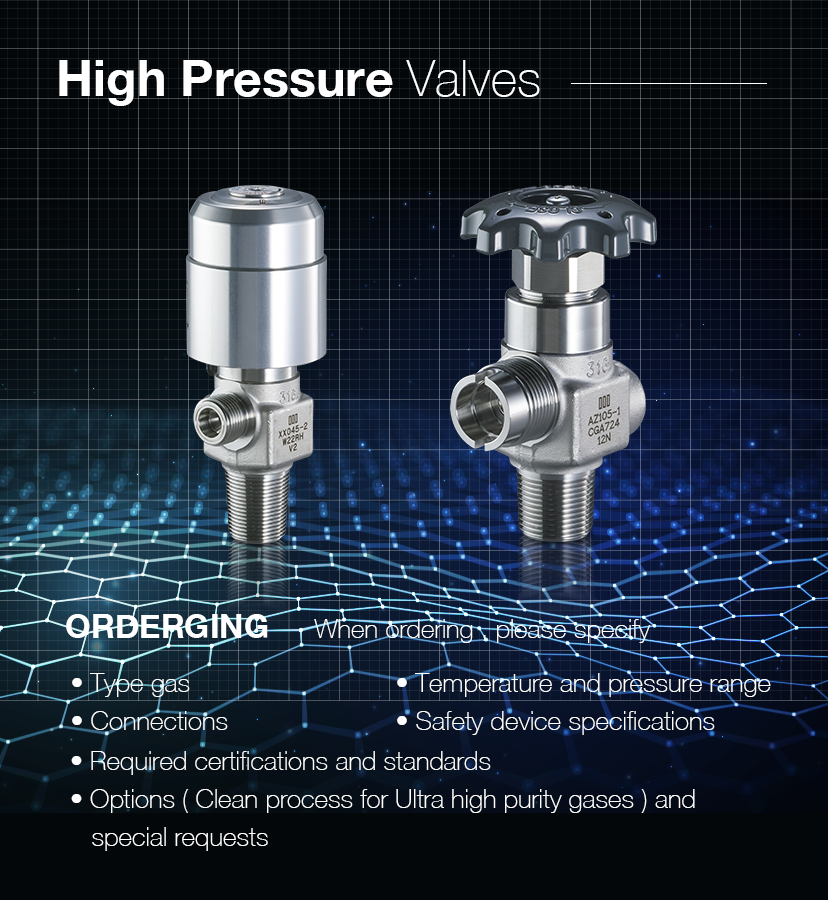 Modification of specifications based on existing products
Hamai can modify designs based on existing mass-produced products. We provide various valves which meet any need.
Adding functions in accordance with usage needs
Hamai can customize products in accordance with usage needs; for example, modifying pressure and flow amount, or adding functions.
Compliance with laws and regulations of each country
As with made-to-order products, customized products comply with laws and regulations in each country that are essential for product use. Hamai supports the acquisition of certification for industrial standards, etc.
Inquiries about customization
Call us
At Hamai, we welcome your inquiries and offer consultations by phone.
International call

+81-3-3492-6655

from 9 a.m. to 6 p.m. JST (available in English)
Email us
Please enter your inquiry or what you would like to consult us about into the form below and press Submit.
We will look at your inquiry and respond as soon as we can.
(accepted 24 hours a day; English only).
Schedule an online business meeting (on Webex by Cisco, Zoom, or Microsoft Teams)
Enter the required information
Confirmation email from Hamai
Schedule adjustment
Meeting invitation email
Online meeting
At Hamai, we welcome potential customers to online business meetings to respond to specific inquiries, needs, and consultations from around the world.
Please enter the required information in the dedicated form and press Send.
When we receive the email, we will reply with confirmation of the details and the dates and times we propose for the meeting. After communicating and agreeing on a time, we will send an email invitation to the online business meeting (on Webex by Cisco, Zoom, or Microsoft Teams).
*1.

Please enter the meeting room at the agreed time. A person responsible for overseas accounts will meet with you.

*2.

There is no need to sign up for an account to join the online business meeting.

*3.

If we cannot meet at the time you desire, we will contact you again to reschedule.

*4.

If you have not heard from us to arrange an appointment for more than five days after your inquiry, there may have been a system issue or a mistake in the contact information. Please contact us directly from our email form.

*5.

Depending on your inquiry, engineers or other staff members may join the meeting.
Hours of availability
Online business meetings can be scheduled between 9 a.m. and 6 p.m. JST.
If you desire a time outside those hours, we will consider the case individually and arrange a time.
User environment
Data charges are paid by the user. Attending the meeting on a smartphone may result in higher data charges. Please check your contract for your data plan.
If the data connection during the meeting is poor, we may not be able to hold the online business meeting. We recommend a Wi-Fi environment.
Information management
Details we discuss during the online business meeting include personal information and confidential information. Do not tell others, post on social media, or otherwise make the information known to third parties.
Hours of availability for online business meetings (9 a.m. to 6 p.m. JST)

Best hours for both your company and ours
Core business hours for the region
Hours we can accommodate if necessary